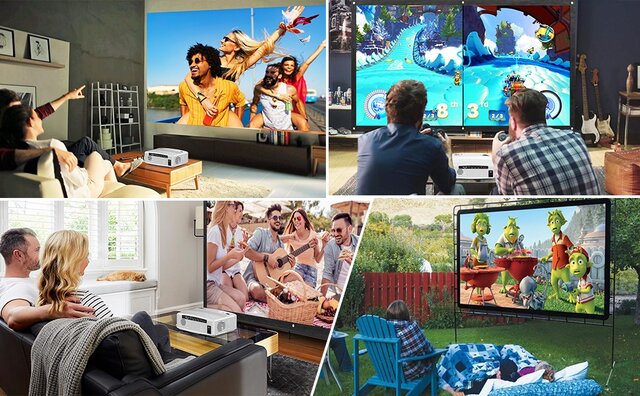 Description
130" Projector & Screen HD (Inflatable or Regular Screen your choice)
(Foldable Anti Light Silver Screen, Projection Screen for Home Movies Backyard Theater Outdoor Indoor Family Party)
Large Screen (114 * 63 inch / 290*160 cm) with 160°panoramic view, which can provide a better viewing experience for your friends and family. The screen can help to reduce influence of ambient light and enhance the contrast therefore making the image brighter and clearer.
ANTI-LIGHT: Projector movie screen is brighter than most other projection screens, smooth surface enhance image results.
EASY-INSTALL: This unique projector screen comes with peel-and-stick hooks (16PCS) which allows you to set up quickly and easily in any space. Installed with nails, ropes meaning this can easily fit on walls, trees, windows and so on.
FOLDABLE & PORTABLE: Compact one-piece, lightweight and folding design. This simple projection screen can be folded to fit in a suitcase or backpack without damaging and able to use if travelling.
DAILY RENTAL $55
(Projector & Screen- Just choose a regular or large inflatable Screen)
WIFI Projector
Bring your smartphone or iPad to the big screen with the projector's Wi-Fi connection, saving you the cost of buying additional cables. If your network supports 5G, you'll enjoy a happy experience with 5G speeds to play video games and movies without lag.
No WIFI?
Please do not worry, this WIFI projector also enables our customers to synchronize smartphone screen by USB cable directly [NO NEED TO BUY EXTRA CABLES].
Unlike other projector do not support Android device, you need to buy a new lightning cable for Android device. Our home projector is for various iOS/Android devices normally.